Chimney Lining and Relining Services
Before we discuss chimney relining, let's be clear about what a chimney lining system is. Most masonry chimneys are constructed with brick or block and an inner layer of clay tile liners. The purpose of the lining system is to keep the heat and flue gases inside the chimney until they can safely exit out the top.
The lining system acts as an insulator and keeps combustible material form overheating and causing a fire. The lining system also keeps carbon monoxide, moisture, smoke and creosote from leaking out of the chimney and into your home.

So, What Is Relining?
Relining is a procedure that entails removing damaged or deteriorated liners and replacing them with a safer and more efficient lining system. Relining is needed when:
There is no clay tile flue liner (as in many pre-1920 chimneys).

The old lining system cracks, crumbles or deteriorates, or if the existing lining system is inadequate for the appliance being vented into it.
The National Fire Prevention Association says a lining system must be replaced if it doesn't meet current minimum safety standards.
Goss Bros. Chimney Service has been relining chimneys for more than 25 years. Based on our extensive experience with several types of lining systems, we have come to the conclusion that high quality stainless steel lining systems are the best choice for most chimneys.
Heavy duty stainless steel liners are strong, durable, and offer the most flexibility. When properly sized and installed, a stainless steel lining system will provide better draft, resulting in less creosote buildup than a comparable clay tile flue system.

A Chimney Fire Can Damage Your Chimney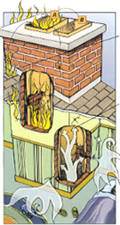 If you have had a chimney fire, which is sometimes accompanied by a load roaring noise, you should have the chimney inspected. Chimney fire temperatures can exceed 2,500 degrees and can cause damage to terra cotta flue liners. Once the liners are damaged, hot spots can develop and cause excessive heat to radiate to combustible materials surrounding the chimney.
Contrary to popular belief, it is not necessary for sparks or flames to escape the chimney for a fire to spread. If excess heat radiates through damaged liners for a long period of time, surrounding combustibles can ignite spontaneously.
A chimney professional can determine if your chimney has been damaged and can then discuss the the best course of action for your situation.

New Life For Your Chimney
We can revitalize your damaged, deteriorated or unlined chimney with a high quality, durable, heavy duty, chimney relining system.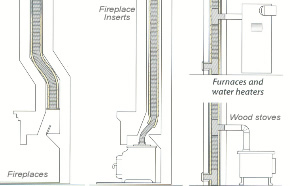 Goss Bros. Chimney Service has a relining system to fit nearly every chimney configuration and all of our systems come with long term or lifetime warranties.

Fair Rates and Personal Attention
We offer fair rates for all of our products and services. When you call Goss Bros. you will receive the personal attention of an experienced chimney professional.
If you'd like to discuss your chimney needs, call Don at 814.734.7354 or send an email: