Chimney Cleaning Services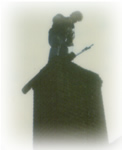 Your chimney should be cleaned as often as necessary to keep it free from flammable creosote deposits. What is creosote? Creosote is unburned fuel that is deposited inside your chimney when smoke cools and condenses. How often your chimney will need to be cleaned depends on several factors.
How frequently you use your fireplace or wood burning stove
The type of wood you burn
The moisture content of the wood
How well your home is insulated
The best plan of action is to have a professional inspect your chimney and clean it, if necessary at least once per year.

Our Dust Free Cleaning Procedure
You can rest assured that we will treat your home with the same consideration we would treat our own. We take precautions to make the entire chimney cleaning process dirt and dust free. This includes laying out clean runners to and from the work area to prevent soiling your floor or carpeting. We also lay down mats in front of the fireplace where we will be working.
We use a large industrial vacuum during the chimney cleaning. It prevents any dust or debris from entering the living area. We do our best to make the experience completely painless for you.

How Much Will A Chimney Cleaning Cost?
The most often asked question I get from potential clients is, How much will a chimney cleaning cost? The answer to that question will depend on your individual situation:
How difficult is your roof to access?
How high is the chimney and where is it located?
What type of installation do you have?
How much and what type of creosote is in the chimney?
A short telephone interview will usually be helpful for the purpose of estimating the cost of a chimney cleaning for your system.
As a rule of thumb, you can expect to pay $100.-$160. for the services of a reputable company. The national average for a chimney inspection and cleaning is approximately $150.00.-$160.00.
Please keep in mind that a chimney cleaning can cost more in some cases. For example, stage three creosote cannot be removed with standard chimney brushes and may require mechanical cleaning methods. A plugged chimney may also take more time and effort to clean.
If you have a fireplace insert that is installed with no liner attached to it, the stove will have to be removed from the fireplace and then reinstalled after the cleaning is completed. Removal and reinstallation of the stove is time consuming. There may be an extra charge for that service.

Chimney Service Scheduling Tip
The best time to schedule your chimney cleaning is in the Spring or Summer months! There are several advantages to having your chimney inspected and cleaned early in the year.
You can take advantage of our "Off Season" discounts. Save $10-$20. on your chimney inspection or cleaning.
Removing creosote deposits immediately following the burning season helps prevent corrosion of the damper and other metal parts.
Avoid scheduling backups that occur during the Fall.
Your system will be ready for use when the first cold snap hits.


Fair Rates and Personal Attention
We offer fair rates for all of our products and services. When you call Goss Bros. you will receive the personal attention of an experienced chimney professional.
If you'd like to discuss your chimney needs, call Don at 814.734.7354 or send an email: